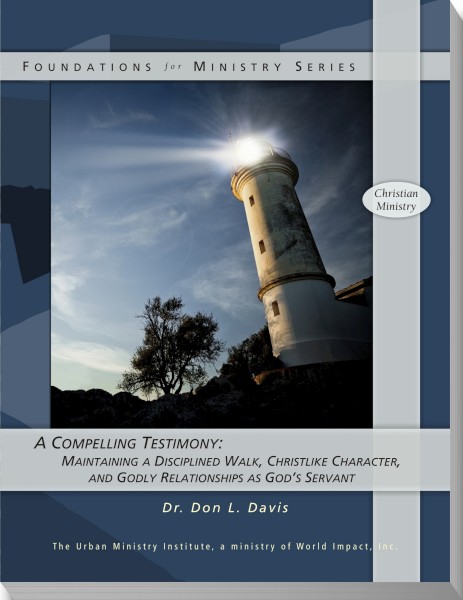 A Compelling Testimony:
Maintaining a Disciplined Walk, Christlike Character, and Godly Relationships as God's Servant
This workshop highlights the essential perspectives and practices necessary to maintain a disciplined walk with the Lord in the context of the Body of Christ. The teaching and discussion focuses on the spiritual disciplines of God's servant leader, on their practical obedience and the continuous leading of the Holy Spirit, and the resulting compelling testimony that is seem in home, in the Body, as a neighbor, co-worker, and member of the society.
TUMI Satellites
This course may be applied toward Christian Ministry. This course originally was part of our Upper Room Workshop series, TUMI course # C2-404. If you are a satellite of TUMI, you also have access to a syllabus for this course that allows you to offer this course to your students for credit.
Required Textbooks: Celebration of Discipline. 25th Anniversary edition, Richard Foster | Dedication and Leadership, Douglas Hyde | The Cost of Discipleship, Dietrich Bonhoeffer
Purchase Resource Kit (includes Workbook, audio in Mp3 format [8 hours])
Purchase Student Workbook
Purchase Kindle version of A Compelling Testimony
Course Syllabus, Quizzes, Exams and Answer Key (TUMI Satellites only)
Go to TUMIStore
Return to Foundations Summary Page