Sacred Roots Annual Theme
TUMI Sacred Roots Annual 2016-2017: Sisters of the Spirit (Luke 1.38)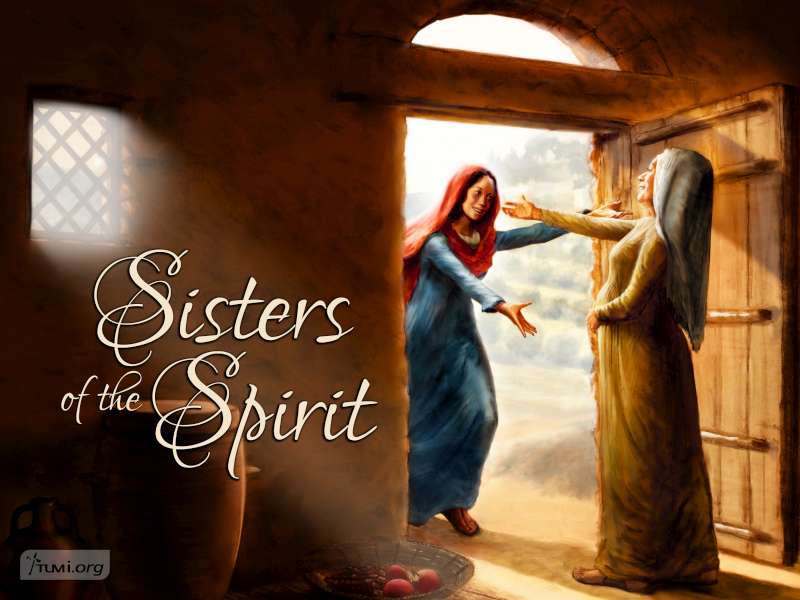 One of the most important and yet most easily overlooked facts of the Church's spiritual formation is the power and beauty of women's spirituality. This year, our intent will be to learn how the holy women of the Scripture demonstrated their commitment and allegiance to God and Christ, and discover how our own walks in Christ can be enriched through their example. Our cover depicts Mary greeting Elizabeth after Gabriel told her she would give birth to Jesus. As in all our Church Year spiritual formation exercises, the beginning of the Year focuses on the person and work of Jesus Christ, from the promise of his coming to the sending of the Holy Spirit at Pentecost. Starting at the Ordinary Time of the Season after Pentecost, we will begin to explore in earnest the power of women's spirituality, both during the unfolding of the Church Year and our book readings and discussion times together.
A main focus of this emphasis will be our study of the lives and accomplishments of some of most spiritually anointed and powerful women of Scripture. We have given the name to these character studies "Vignettes of the 'Hidden Persons of the Heart' (1 Pet. 3.3-6)." We have selected defining moments in the lives and ministries of godly impactful women in Scripture, and we will study them thoroughly, inducing from their amazing lives both insights and principles of what it means to live for God in extraordinary times of challenge and promise. Here is the week by week outline of the study sessions we will explore by their order of appearance, beginning the week after the celebration of Trinity Sunday. The character trait before each individual provides the thematic lens through which we will view their situation and response.
---
2016-2017 Annual Theme Resources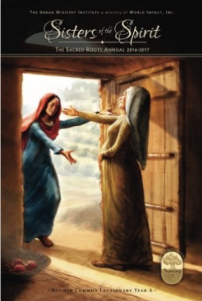 The Sacred Roots Annual 2016-2017: Sisters of the Spirit is available in the following formats:
The 2016-17 Church Year Calendar: Jesus of Nazareth, the Great I Am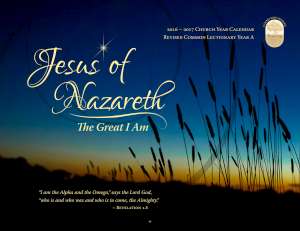 At the heart of our life together stands the person of Jesus of Nazareth, the author and finisher of our faith. Through him creation came into being, and he alone reveals to us all the glory of the Father. He redeemed us from Satan's tyranny and sin's bondage, and he alone will ultimately restore all things, under God's reign. His triumph and power are everywhere pictured and affirmed in Scripture, and nowhere clearer than the numerous "I am" statements strewn throughout the Bible, especially in the Gospel of John.
Our 2016-17 Church Year calendar, Jesus of Nazareth, the Great I Am connects the liturgical year with Jesus as the all sufficient "I am." For instance, in Advent he is seen as the Word become flesh (John 1.14), in Christmas as he who said "Before Abraham was, I Am" (John 5.58), and in Epiphany as "I am the Light of the world" (John 8.12). Each season displays a particular vantage point of our Lord's work through his "I Am" statements, included in this year's liturgical calendar to enhance our meditation of his glory and his work.
The 2016-17 Chronological Reading Guide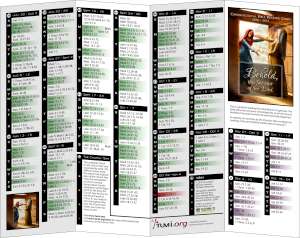 Each year we read through the Scriptures together chronologically, seeking to gain greater insight on the entire Story of God as it occurred in historical order of events. In this guide we read through the narrative of the Bible as well as highlight in attractive colors the emphases of the Church Year's time schedule. Reading through the Scriptures in the order the events happened helps us stay on point regarding the true subject matter and theme of the Scriptures: the salvation of God in the person of Jesus of Nazareth, the Christ. This reading not only provides richer insight into the events of Scripture, it also helps us greatly to better comprehend the meaning of the whole story of God's wondrous salvation and grace, which climaxes in the Christ event, his death, burial, resurrection, ascension, and return.
Complimentary Theme Book Reading
This year we will read together books which articulate varying views on the nature of women's spirituality, and their role in Church and mission. The texts we selected will allow us to hear clar arguments from differing points of view, enabling us to engage and examine the differing viewpoints held in various traditions on the role and scope of women's life in the Church. We invite you to join us as we explore the vision of women's spirituality and its implication on our life and mission.
• Beyond Sex Roles: What the Bible Says about a Woman's Place in Church and Family (3rd edition), Gilbert Belzekien
• Women and Ministry: What the Bible Teaches, Dan Doriani
• Why Not Women? A Biblical Study of Women in Missions, Ministry, and Leadership, Loren Cunningham, David Joel Hamilton
• Ministry at the Margins: The Prophetic Mission of Women, Youth and the Poor, Cheryl Sanders
Suggested Readings
• How I changed my Mind about Women in Leadership, Alan F. Johnson
• What Paul Really said About Women: an Apostle's Liberating Views on Equality and Marriage, Leadership and Love, John Temple Bristoe
Living an Integrated Spirituality: The Power of Thematic Focus
One of the great problems in our contemporary spiritual formation is the sheer number of diverse, non-integrated ideas, resources, and themes in the ongoing lives of Christian communities today. It is easy to get lost amid the hundreds of ideas and topics covered within a calendar year: weekly homilies, Sunday School units, small group series, pastoral preaching topics, personal devotional guides, and media posts (to name a few). This patchwork of disconnected approaches and ideas rubs against our natural disposition to focus on an idea, one big, integrated idea for an extended period of time. For those of us who see Christ Jesus as the source and center of the Christian experience, this recurring focus on dozens of disconnected ideas sabotages effective, biblical spiritual formation.
The anthropological response to this whole phenomenon is for us to learn to focus on a single, big, integrated idea. The key to character and discipline is focused attention, effort, and energy. Whatever subjects or directions upon which we concentrate our energies and efforts in a deliberate and disciplined manner, we grow and deepen. To use an analogy, honey is gathered by the bee, who draws out of a single blossom all the sweet nectars which it has to offer. The butterfly, however, which flits around from bush to bush and plant to plant, may cover ground but gathers nothing sweet. In all things spiritual, we ought to strive to be like the bee and not the butterfly! It is both bad pedagogy and ineffective pastoral strategy to give people dozens of unique, disconnected themes per year to think about and apply.
Perhaps the greatest disadvantage these multiple themes produce in our lives is the lack of connection we find with others with whom we share a spiritual walk and journey. If it were possible for a community to share the same spiritual ideas, themes, and resources together for, say, an entire year, their ability to share a spiritual journey would be multiplied exponentially. The same prayers, readings, memorization, dialogues, disciplines, and experiences could enhance our ability to share a spiritual vision and journey together. The same theme could fund a shared spirituality.
For years now, the faculty and staff of the Institute have shared spirituality, i.e., we have communally embraced a common theme and focus around which we organize our efforts and energies for the sake of our growth and maturity. We share the same resources in similar disciplines on a mutually-committed theme. Through that theme we integrate our devotions, preachings, lectures, worship liturgies, book readings, and spiritual exercises for and entire Church Year. The theme becomes our touchstone, the one centralizing element from which all our shared spiritual pursuits emerge, the starting line for the specific missional projects and events that we sponsor and host. The resource which explains that annual theme we call our "TUMI Sacred Roots Annual," a simple name we give to the overarching concept that will shape and give substance to our personal and corporate practice of the spiritual disciplines.
Of course, this annual emphasis is not based on the calendar year (i.e., from January to December), but the Christian Year (from the celebration of Advent around December to the Season after Pentecost at the end of the next year's November). As followers of Christ, we without fail focus the first part of every Church Year on the Story of God in Jesus Christ through the Cycles of Light (Advent, Christmas, Epiphany) and Life (Lent, Holy Week, Easter, and Season after Pentecost). Then, during the extended period of Ordinary Time in the Season after Pentecost, we drill down into our theme for the year, which the Annual is named for, year by year. Starting on the week after Trinity Sunday, we concentrate our meditation, reflections, readings, study, and dialogue on the theme that we have chosen, and integrate that focus into our book readings, bible homilies, small group dialogues, and spiritual disciplines for the majority remainder of the Church Year.
This dual focus allows us to stay in sync with the Church Year celebrations of the assemblies of Christ throughout the world, of whatever tradition, who are formed by the rehearsal and reenactment of the Jesus story in the major seasons of the Church Year. Still, with the nearly 27-30 weeks of Ordinary Time that follows, we can center on a single theme that provides us with a cache of common spiritual resources and a common journey, permitting us to concentrate on an idea we are passionate about and eager to grow in.
The power of thematic focus touches every dimension of our lives. We are reading the same books, hearing the same sermons (all on a single idea), engaging in small group dialogue where the theme is dissected and explored, all for the purpose of being enriched in a theme that means much to us, and that we believe God wants us to be deepened within. This focused approach is definitely more spiritually vital than the current practice of jumping from theme to theme, idea to idea, in every spiritual meeting and encounter we have.
It is our conviction that God can deepen us in a single spiritual concept for an entire year, with focused disciplined study and reflection for most of it. As you participate in this shared spirituality, we trust that you will find, as we have, that centering your lives together around a shared theme for the entire journey of the Church Year can help your family and community center down, grow deeper, and enrich you around a significant biblical theme that the Spirit wishes you to know, feel, and experience together.
Vignettes of the "Hidden Persons of the Heart" (1 Pet. 3.3-6)
Vignettes of the "Hidden Persons of the Heart" (1 Pet. 3.3-6)
They have hearts of . . .
1. Vignettes of the "Hidden Person of the Heart," 1 Pet. 3.3-6 (Introduction)
2. Awe-filled: Queen of Sheba, 2 Chron. 9.1-12
3. Tender: Samaritan Woman, John 4.1-42
4. Determined: Woman with Issue of Blood, Mark 5.24-34
5. Shrewd: Shiphrah, Puah, Exod. 1.8-20
6. Deferring: Elizabeth, Luke 1.39-45
7. Broken: Hannah, 1 Sam 2.1-11
8. Expectant, Anna, Luke 2.36-38
9. Focused: Mary (sister of Martha), Luke 10.38-42, Luke 12.1-8
10. Shameless: Mary Magdalene, John 20.1-18
11. Worshipful: Miriam, Exod. 15.1-21
12. Faithfilled: Sarah, Gen. 17.15-21, 18.1-15 (Heb. 11.11-12)
13. Deep: Mary, Mother of Christ, Luke 1.46-56, 26-38
14. Wise: Abigail, 1 Sam. 25.1-42
15. Fierce: Deborah (Jael), Judges 4.1-24 (ch. 5)
16. Loyal: Ruth, Ruth 1.1-18
17. Sacrificial: Esther, Esther 4.1-17
18. Humble: The Canaanite Woman, Matt. 15.21-28
19. Truthful: Priscilla, Acts 18.24-28
20. Vignettes of the "Hidden Person of the Heart," Proverbs 31 (Outtro)
This series promises to teach us much regarding the unique and powerful shape of Spirit-filled women's spirituality, how they answered God's call in the face of challenge, difficulty, and opportunity. Together with the books we will read on the role of women in the Church and Kingdom, this series will offer us the chance in dialogue and study to learn how godly women impact and shape the life of the Church, and enable us to fulfill Christ's mission to advance his Kingdom in the world today.