Mentor Support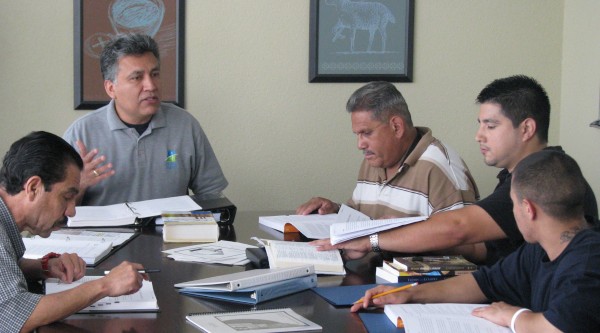 Jesus exhorted his own disciples that when a follower was fully trained, he would become just like his master (Luke 6.40). Our commitment is to ground, challenge, inspire, and equip you as you mentor classes at TUMI. None of the quality time and resources you give to understanding our philosophy and the ins and outs of leading a TUMI course will be wasted. In our judgment, it is the best investment you can make in your training and the fruit you experience from it -- equipped students who can rightly handle the Word of God.
Be sure to obtain a copy of "For the Next Generation: The Urban Mininstry Institute's Mentor Manual" from your Satellite Site Coordinator. This represents a comprehensive how-to for Mentors to understand both the elements of our teaching philosophy and the mechanics of facilitating a satellite course. Familiarize yourself with the overall TUMI purpose, strategy, and pedagogy contained in this manual. Please read this manual through BEFORE you begin your work as a Mentor. After you have read this manual,
please read carefully and check the boxes on the MENTOR SIGN-OFF form, indicating that you understand
and support the Insittute's doctrine, programming, and strategy. Sign the document and give to your Site Coordinator.
The COVID-19 crisis offers our satellites an unprecedented opportunity to employ online tools for hosting our training classes. In this season, we are offering our sites a nimble means to continue equipping our students in cohort groups to allow students to access Capstone videos online and to meet in online dialogue and classroom participation.
*****************************************************
La crisis de COVID-19 ofrece a nuestros satélites una oportunidad sin precedentes para emplear herramientas en línea para albergar nuestras clases de capacitación. En esta temporada, estamos ofreciendo a nuestros sitios un medio ágil para continuar equipando a nuestros estudiantes en grupos de cohortes para que los estudiantes puedan acceder a los videos de Capstone en línea y reunirse en el diálogo en línea y la participación en clase.
---