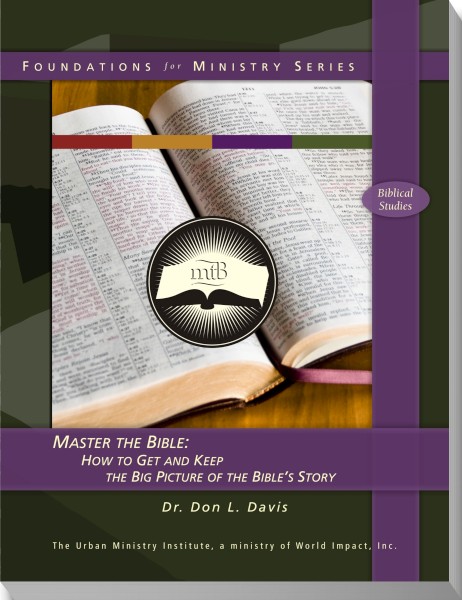 Master the Bible:
How to Get and Keep the Big Picture of the Bible's Story
This course highlights TUMI's Master the Bible Program, a four-series Scripture memorization regimen which includes both audio and video resources. Based on selected texts from the English Standard Version (ESV), the program titles include: New Beginnings In Christ: Foundations of the Faith; From Before to Beyond Time: Understanding the Story of God; Living the Christ Life: Participating in Jesus' Story, and Growing to Maturity: The Measure of Christ's Fullness.
This workshop concentrates on all the essential skills needed to memorize and retain a thorough knowledge of Scripture through disciplined, programmed memorization of biblical verses according to themes and topics. We also include issues of translation, hermeneutics, Bible history, and the story of God culminating in Christ. This thorough program will enable each student to know and meditate on the foundational truths of the Faith, the Bible's fundamental content and theology in Christ, providing a simple, effective method to gain mastery of the Bible's contents in outline format, section-by-section, and book-by-book.
TUMI Satellites
This course may be applied toward Biblical Studies, Theology and Ethics or Christian Ministry, TUMI course #B2-630. If you are a satellite of TUMI, you also have access to a syllabus for this course that allows you to offer this course to your students for credit.
Required Textbooks: New Mind, New You: The Miracle of Scripture Memorization, Waylyn Hobbs, Jr. | Foundational Faith: Unchangeable Truth for an Ever-changing World, John Koessler, ed.
Purchase Resource Kit (includes Workbook, ESV Bible, 2 DVD set (4 hours of video), 11 x 17 MTB poster, 1 set of 4 MTB bookmarks, Memorize His Word software)
Purchase Student Set (includes Workbook [MTB Guidebook], Memorize His Word software CD, 1 set of 4 MTB bookmarks)
Purchase Student Workbook only (Master The Bible Guidebook)
Purchase Kindle version of Master the Bible
Course Syllabus, Quizzes, Exams and Answer Key (TUMI Satellites only)
Go to TUMIStore
Return to Foundations Summary Page